Purpose
The purpose of Jaguar Robotics is to provide team members the opportunity to collaborate with their peers while placing an emphasis on applying skills related to engineering, mechanical, electrical, precision machining, management, marketing, programming, and general employability skills. Additionally, the team hopes to foster the required foundations needed for members to excel in future STEM (Science, Technology, Engineering, and Math) careers and in society as a whole. Ultimately, this will provide business/industry skills with productive and profitable human resources.
Departments
Our team is split up into five divisions which serve different purposes and allow for flexible work. This emulates a work environment which teaches team members essential skills, preparing them for future job opportunities.
The Machining Department cuts and drills the aluminum and plastic parts used on the robot. Some parts require precision up to the thousandth of an inch. We also use a variety of machines including a CNC (Computer Numerical Control), a milling machine (allows for more precise machining), manual lathes, and mills.
The Documentation Department ensures documentation is complete by the deadline. Documentation is typically over 200 pages long and is required to compete. Documentation includes attendance and meeting details, describes in great detail the process of the creation of the robots, explains strategies used in the ring, and much more.
The Communications Department finds potential sponsors for our team and organizes fundraisers. They also keep track of the funds, orders, and part inventory, as well as managing the website and social media pages is an additional responsibility of the department.
The Electrical Department researches and learns about electrical work from our department head and our mentors. This is all done outside school hours, as we don't have an electrical class. This department manages the ordering of parts, electrical design, and building and maintaining of the bots' electrical systems.
The Design Department creates 3D models of our bot. Using simulations in software such as SolidWorks and AutoCAD, this team runs tests on all aspects of the prototype. The completed models are then used to create our bot.
Team History
Our team started in the year 2016 under the head of William Fitzpatrick, the FZW Industrial Tech Teacher. That year was very difficult for the small group of members. We had to prepare the foundations for all future teams. This included as planning our documentation, determining our team divisions, and the team leadership structure. In future years, we gained experience and built our own bots to take to competitions, improving them each year.
The 2019-2020 season competition was canceled due to COVID-19. We capitalized on this pause in society by immensely improving our robot, which we called "Palminator." We had initially struggled with the electrical systems regarding our bot, but we were fortunate enough to be mentored by Mike Moore, a design and analysis engineer from Boeing. He brought an extensive knowledge of electrical systems to the table for us, going above and beyond to ensure that we understood the material. With his help, we were able to renew Palminator. We decided to rename Palminator Sabertooth after we upgraded it. It finished ninth in the Bots KC 2021 Competition. The next season, we decided it was time to change things up; thus, our next robot, Blitz, was born. In the 2021-2022 season, we came to the competition knowing that we would go farther than we ever had. And so we did. Our only loss at BotsKC was the final round, where our own robot, Sabertooth, lost to our other robot, Blitz. At Nationals, Sabertooth placed 30th and Blitz placed 10th. This was a huge achievement for our team, for we had proven to ourselves that we could compete with the most talented teams in the NRL.
Today, we are hard at work ensuring that Blitz and Sabertooth are ready to compete in the 2022-2023 competitions. We also have set a goal of finishing a new robot we plan to name Supernova by the time competition starts. This way, we will have a varsity bot, junior varsity bot, and a freshman bot. West Robotics is looking forward to a good performance in the 2022-2023.
West High School Robotics has been lucky to be assisted by quite a few helpful and generous mentors. Josh Mroczkowski guided us in setting up Trello for our time management. Heather Mudd walked us through how to use proper grammar and be more professional in our writing. Micah, a Mitler Brothers Engineer, helped us with input on mechanical, design, and drafting. Mike Moore, as already mentioned, was an engineer from Boeing who helped us learn and understand the electrical parts of the robot.
Our Bots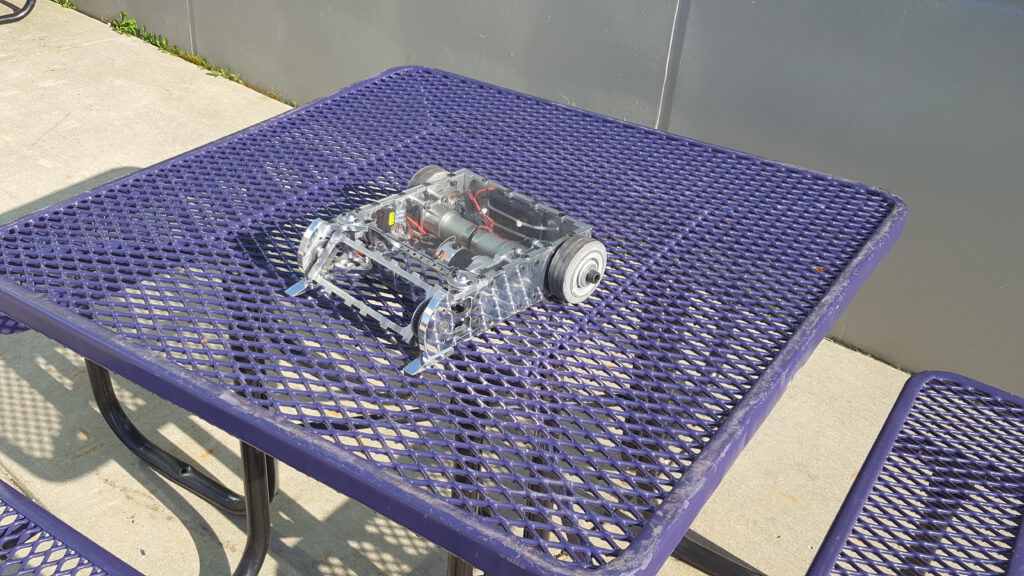 Name: The Palminator (2017-18)
Information
First Bot
Two wheel drive
Box Shaped
Vertical Drum Spinner
Rewards/Placement: First place BotsSTL 2018 Competition
Name: Sabertooth v1 (2020-21)
Information
Improvement of the Palminator
Two Wheel Drive
Box Shaped
Eggbeater Weapon
Improvements/Changes
New wedges
Lighter-weight wheels
Electrical system heavily improved
Slimmer build
Removed holes in weapon
Rewards/Placement:
Ninth place BotsKC 2021 Competition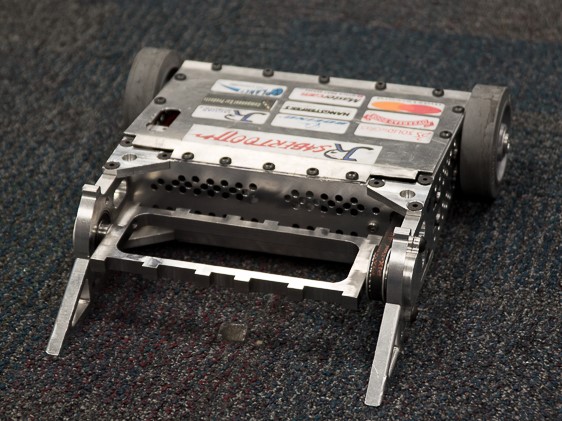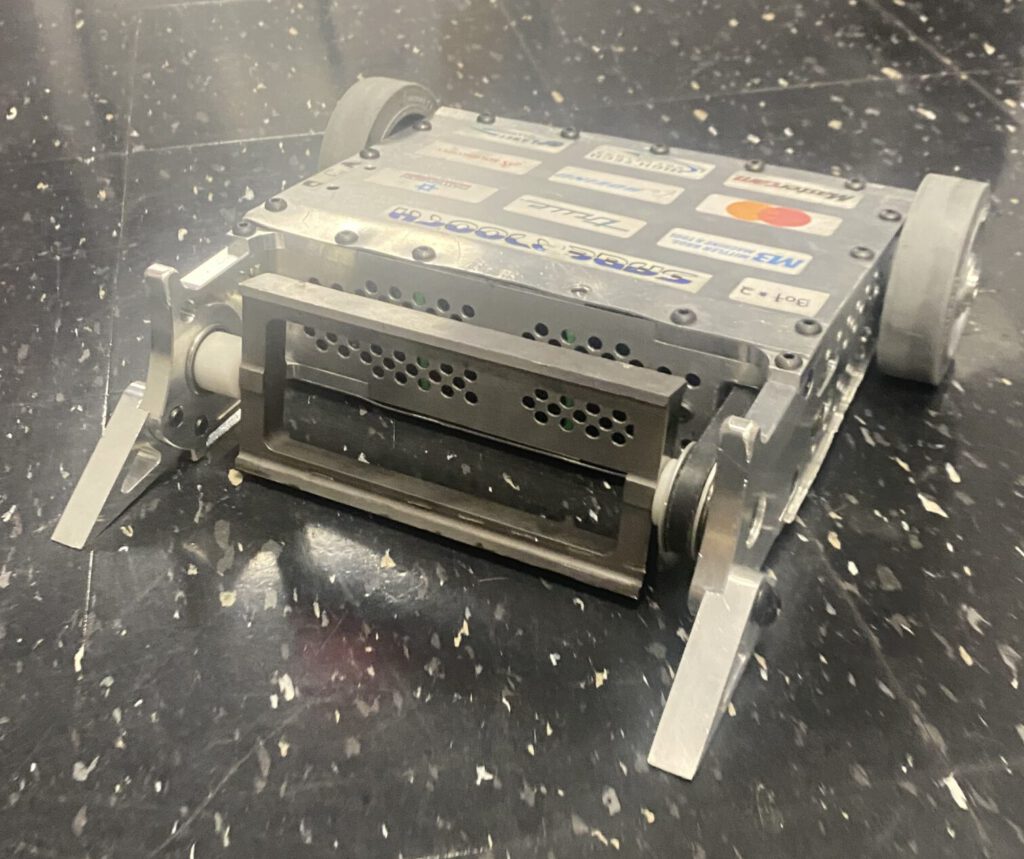 Name: Sabertooth v2 (2021-22)
Information
Improvement of Sabertooth v1
Two Wheel drive
Box Shaped
Eggbeater Weapon
Improvements/Changes
Partial redesign of side plates and wedges
New Weapon Design
Rewards/Placement:
2nd place BotsKC 2022 Competition
30th in NRL 2022 National Championships
Name: Blitz (2021-22)
Information
Complete redesign of previous years
Wheels inside the bot
Eggbeater Weapon
Two Wheel Drive
Improvements/Changes
Larger wedges

Brushless System
New Weapon Design
Smaller Wheels
Rewards/Placement:
Grand Champion KCBots 2022
1st place in KCBots 2022 Competition
Best Engineering Documentation Award
10th in NRL 2022 National Championships